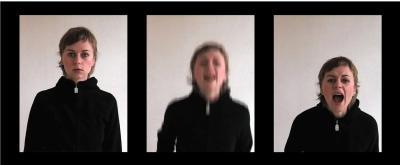 Even overleggen?
Heb je een vraag of wil je vrijblijvend advies?
kunstenaar:

techniek:

grootte (b x h):

150 cm x 120 cm

oplage:

50

beschikbaarheid:

uitleen en verkoop

verkoopprijs:

€ 150

huurprijs:

€ 12
The installation consists of a life-size human image projected on a white curtain from a beamer that is connected to an infra red movement detector. An almost still video image reacts to persons approaching the screen by randomly expressing either an invitation ("please come in", "nice to see you") or impolite request to leave ("get out"). The work is exploring our customary ways of communicating by restricting reality to two alternatives: "yes" or "no". To what extend are our daily reactions automatized? To what level are we trained Pavlov's dogs, letting our instinctive sense guide us through daily tasks? How many responses a day do we utter without giving them a though? How do we create misunderstandings? Come in/ get out - two physically incompatible actions. Do we still try to obey?
Dit werk reserveren, kopen of huren?